Fripp Island is a secluded coastal community that lists off the Southern tip of South Carolina. It sleeps in the shadow of historic Beaufort and adopts the gentile nature of it's southern heritage. It is a quiet oasis and vacationer's dream. The homes are not old and they can't be considered historic, but they are starting to show their age and many are in need of a facelift. One such cottage was purchased by a friend of mine who's personal design style teeters between rustic farmhouse and old school nautical. She had a clear vision for the home, but needed a guide to help her navigate the choppy waters of a large scale renovation.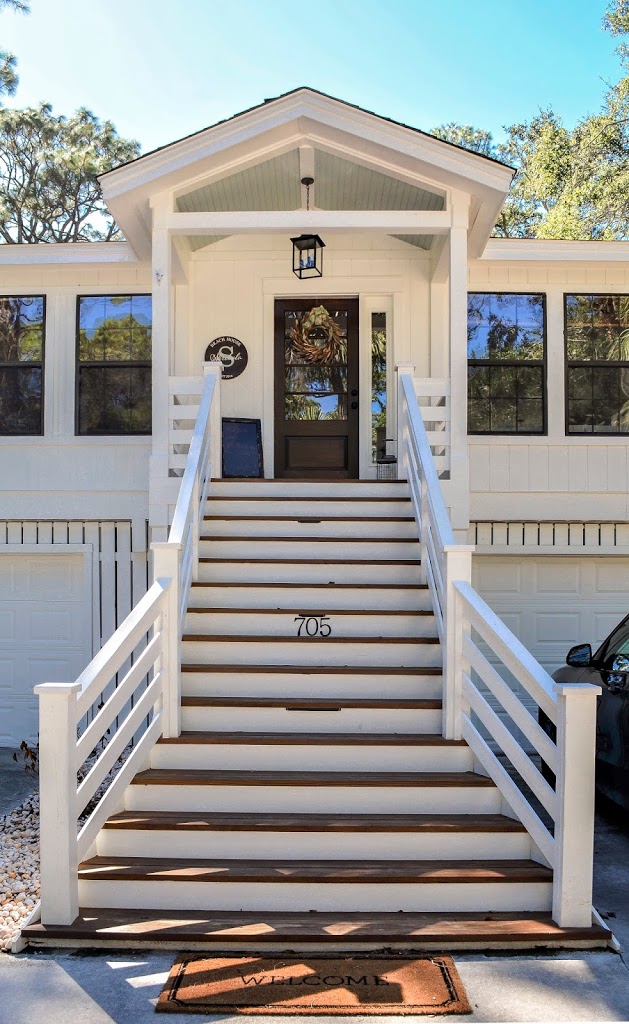 Exterior View of Entry AFTER Renovation
The existing plan and decor was typical for it's age with a small kitchen removed from the living space and pastel color scheme. A pantry closet and refrigerator niche bisected the main living area, making the home feel small and cramped.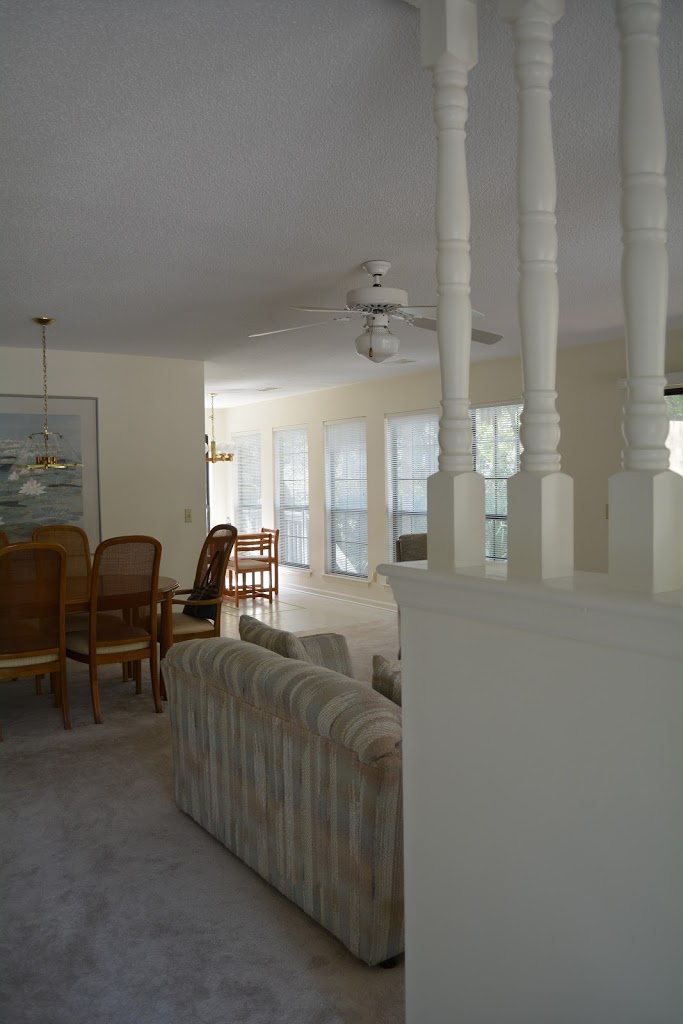 Views of Interior BEFORE Renovation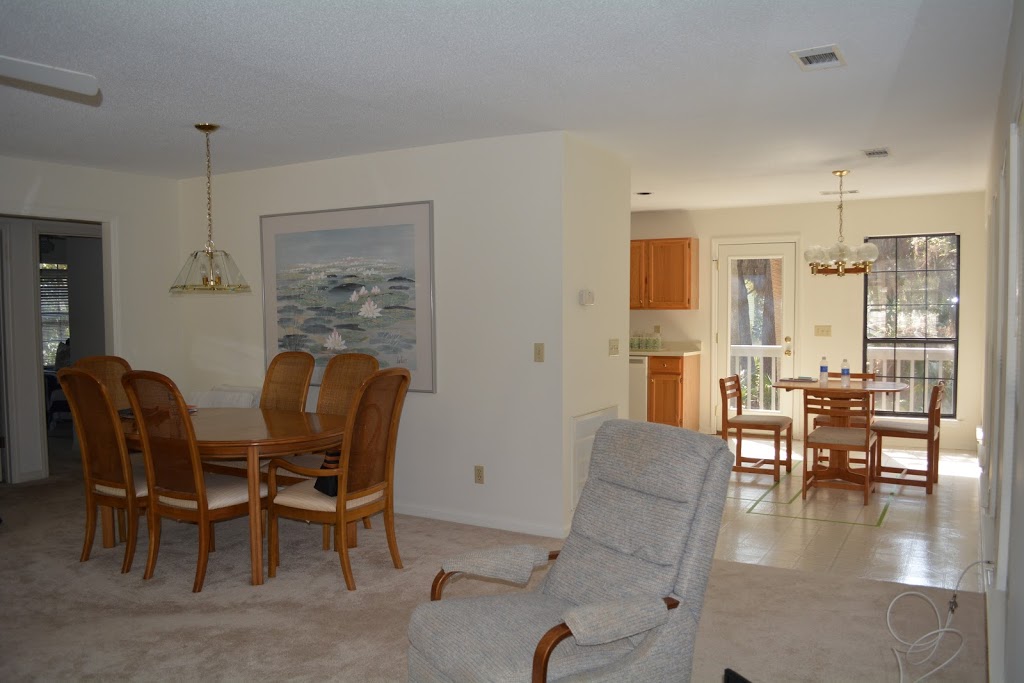 Interior View BEFORE Renovation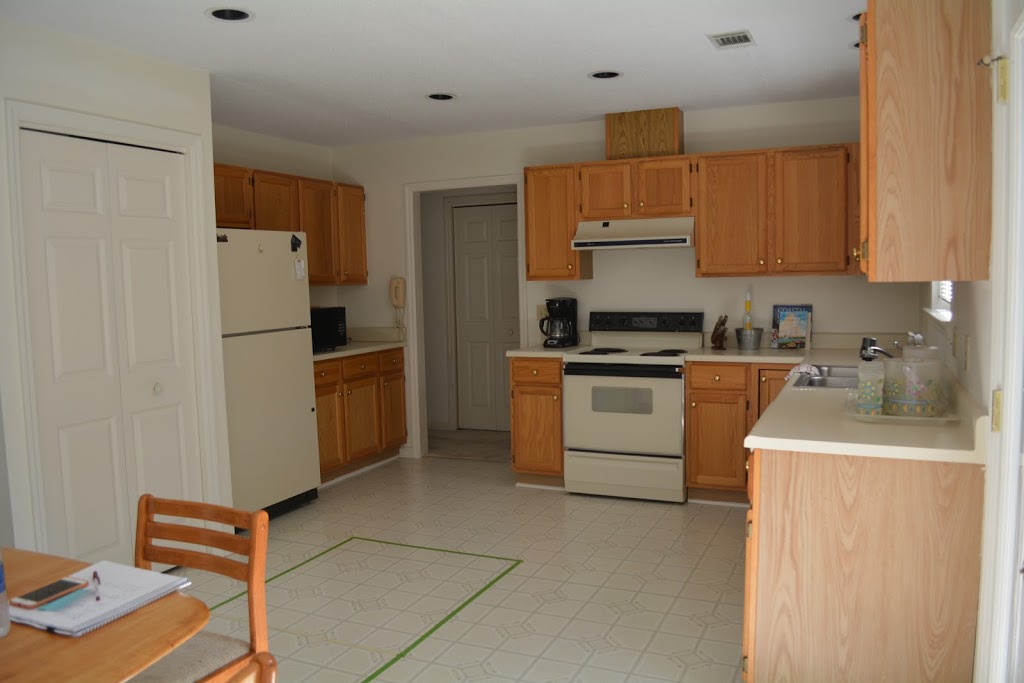 Kitchen View BEFORE Renovation
By removing the walls and redesigning the kitchen with a large island, we gave the home a breath of new life. The creative layout maintained the location of the range, sink and dishwasher which helped to keep costs under control, but relocated the refrigerator and pantry in a way that made the kitchen function and feel much better.
Large meals and many visitors can be served in the new kitchen which is open to the casual dining area and living space. The dining table is flanked by a row of windows which allow the sunlight in and the views out to the lush tropical landscape.
Open shelves and crisp white shiplap adorn the kitchen walls where dishes and drink-ware are an easy reach away. Dark wood floors ground the open plan and contrast nicely with the white walls, cabinets and counters. Dark window sashes and mullions frame the island views and add a sophisticated touch to such a casual space. Polished chrome, satin nickel and stainless steel combine effortlessly to add just the right amount of shimmer and shine.
An old door is re-purposed as the tabletop and large glass jars are transformed into pendant lights. A collection of old and new, earthy and coastal unite to form a palette that is just enough country blended with just enough coastal.
Kimberly Kerl, owner of Kustom Home Design residential design firm, lives and works in the Upstate of SC. Her award winning work over the past 20 years has produced a long list of satisfied clients. If you are interested in designs for a new home or home renovation, contact Kimberly by visiting the "Contact Info" tab at the top of the page.