Mid-Century Modern isn't an architectural style common to Greenville, South Carolina, but nestled along a private lake off a busy east side road, there is a home with broad overhangs, low sloping roofs and ribbons of large picture windows. The white brick facade topped with an outstretched vaulted gable entry and large glass surround sits far off the road with abundant land on all sides. It is a gem in an area where mid-century modern treasures are hard to come by.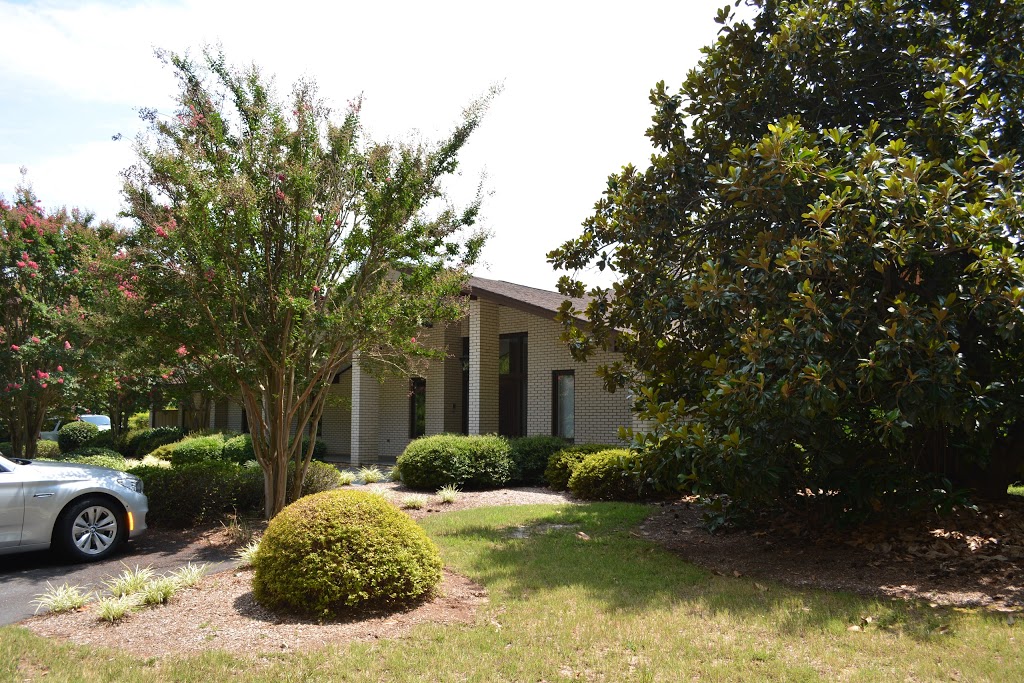 Front Facade of the Existing Home Before Renovations
The owners were busy making interior updates, but needed extra help with an addition they hoped to build. The addition would serve as a private suite for the owner's mother-in-law and in the future could be converted into a pool house or guest suite.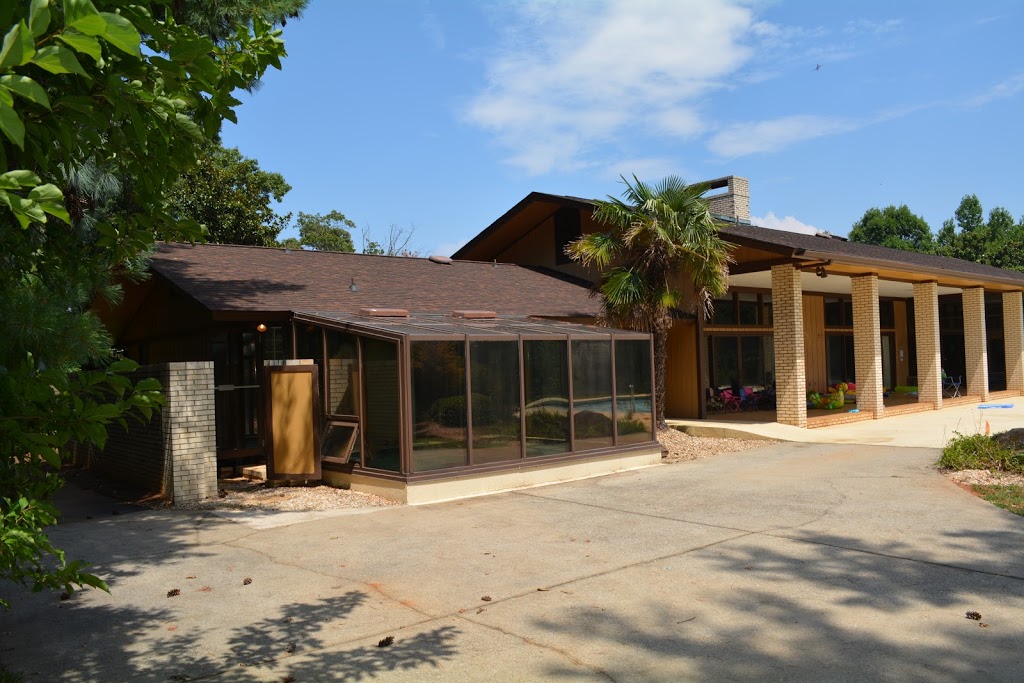 Rear Facade of Existing House Before Renovations
The existing home had a glass atrium which housed a large sunken hot tub located off the master bathroom and roof lines that varied in dramatic fashion. A large pool was located behind the house along with a driveway and parking pad that would make it convenient for private access to the new addition.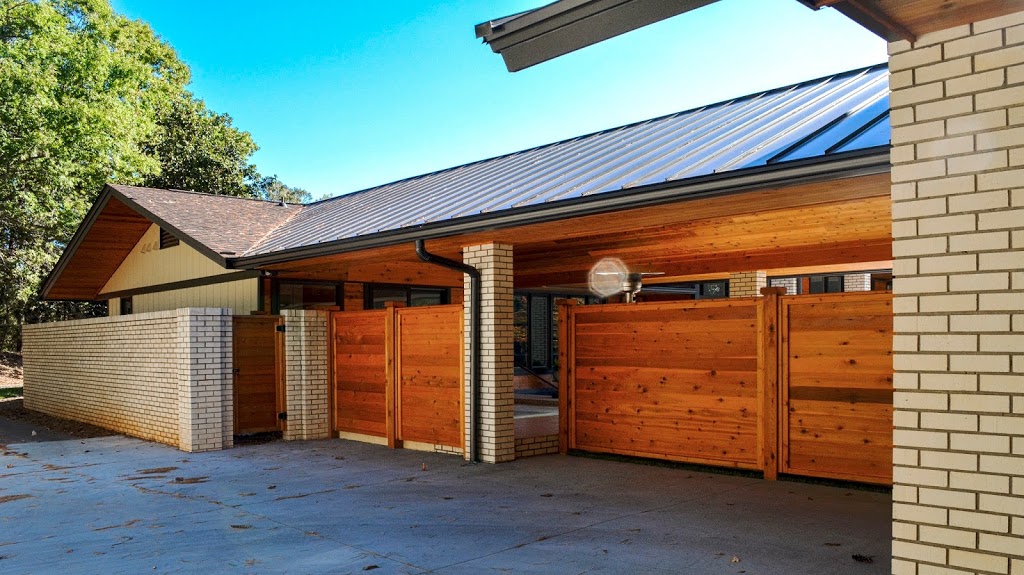 Side View of the Addition as Seen from the Private Driveway
The design solution utilized a low sloping roof with exaggerated overhangs and matching brick coupled with rich, warm red cedar siding and ceilings to update the look and provide contrast and balance to the stark white brick. An open air connector forms an outdoor entertaining space and provides cover for the restored in-ground hot tub.
Poolside View of Addition with Covered Connector, Outdoor Den and In-ground Hot Tub
Outdoor storage and a powder room are accessible from the pool area. A carport with private entry leads to a laundry room, bedroom, full private bathroom, kitchen, dining area and living room. The rhythm established by existing window patterns are repeated in the addition along with the use of matching brick piers and long linear lines common to the Mid-Century Modern architectural style.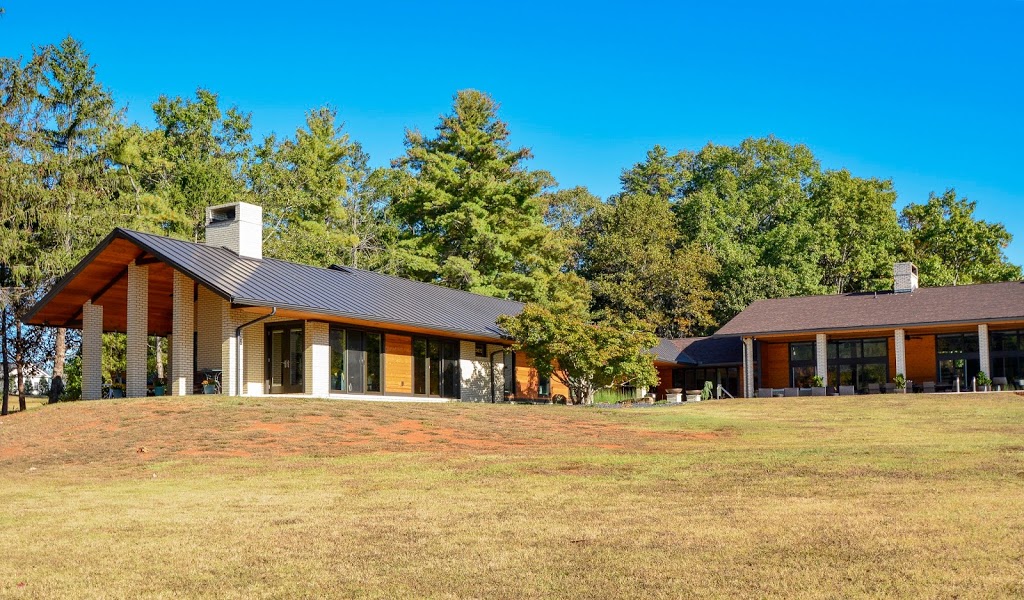 Addition is Located on the Left and Blends Seamlessly with the Existing Home
Visitors to the home are surprised to learn that the addition is not an original structure due to it's seamless integration and masterful design. A private covered porch highlights the end of the addition with scenic views of the lake.
A Dramatic Vaulted Patio Overlooks a Private Lake
Crisp lines, sweeping overhangs, dramatic cathedral ceilings and clean, understated details make this Mid-Century Modern addition feel right at home.