The 2015 Kitchen and Bath Industry Show in Las Vegas was packed with appliance manufacturers featuring their latest and greatest products. I browsed them all and compiled a list of the most impressive new appliance features that you should pay attention to.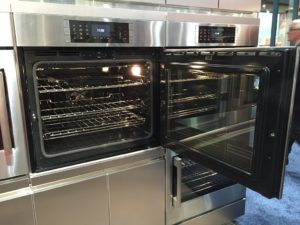 SIDE OPEN OVEN: Bosch's 30 inch Benchmark Series Wall Ovens are available with side opening doors. The ovens come in either right or left swing doors. This is an option you should expect to see more of and one you may want to consider for your next wall oven.
The side opening door allows for easier transfer of heavy items in and out of the oven and when mounted at the appropriate height, it is accessible for those in wheelchairs.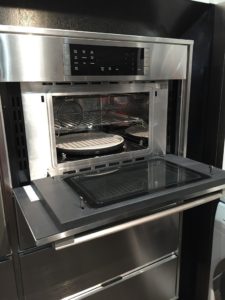 SPEED MICROWAVE OVEN: Everyone likes to save time, energy and space. A speed microwave helps you do just that. Instead of eating up valuable real estate in your kitchen with a built-in microwave and second convection oven, you can use a combination microwave/convection oven like the one made by Bosch.
The ovens come in either 27 inch or 30 inch widths and the Bosch Benchmark series ovens are designed to align with one another in both vertical and horizontal configurations. The sleek design also allows for a flush installation so the face of the appliance aligns with the face of your cabinets.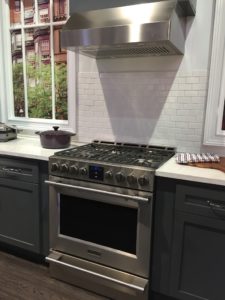 FRONT CONTROL 30 INCH GAS RANGES: This may not sound exciting to many of you, but finding a 30″ gas range with front mount controls has been a difficult proposition that is finally getting a little easier. Thermador and Frigidiaire both offer 30″ gas ranges with front controls. From a design perspective, the front controls allow you to have a clean look with an uninterrupted backsplash; however, that's not the only advantage. Front mount controls also prevent you from reaching over hot elements or pans to reach the controls.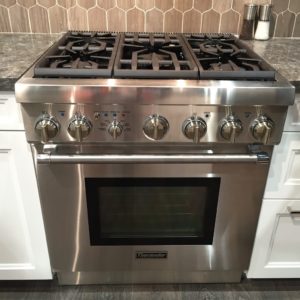 CUSTOM PANELED REFRIGERATOR/ FREEZER COLUMNS: More and more homeowners are realizing the advantages of having full column freezers and refrigerators as opposed to a combination refrigerator/freezer. As these products gain in popularity so do the design options. Appliances designed to accept custom panels have swung the design door wide open. Refrigeration design options are limitless with the new custom panel configurations offered by Thermador's Freedom Collection. The design below was featured at KBIS 2015 and includes custom made wood panels on the wine columns and custom made copper panels on the refrigerator and freezer columns.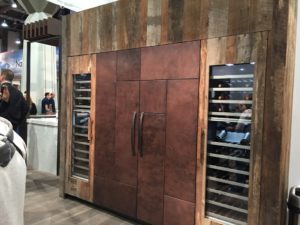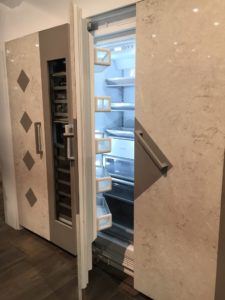 The newly engineering hinges on the Thermador Freedom Collection refrigeration units allow them to support tremendous weight and still achieve a 115 degree swing. This series of refrigeration columns have custom designed quartzite panels and handles.
Appliance innovations abound each and every year with a dizzying array of options, accessories and price points. When you're ready to upgrade your appliances or design your dream kitchen space, seek the advice of a professional who can help lead the way.