This next home was built by the Stokton family who bought a beautiful slip of land that teeters on the brink of the serene Fripp Island marshes in South Carolina. The home was designed by Atlanta architect, Dwayne Stone, who was asked to take full advantage of the lush marsh views. Constructed by contractor, Alan Patterson, the home has wonderful entertaining space and a unique feature I refer to as "The Crows Nest".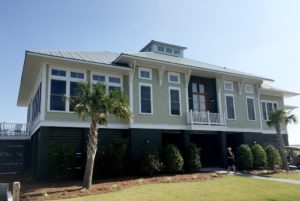 Exterior view of the Stokton home on Fripp Island, SC
Tall windows capped with transoms, broad overhangs, a satin metal roof, soft coastal green shingle siding and the playful crows nest perched at the peak of the roof make this island home a welcome addition to the breezy marsh land of Fripp Island, SC.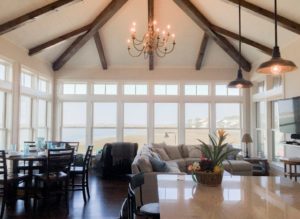 Interior view of the casually comfortable living spaces
The open great room space crowned with a vaulted ceiling and timber beams is surrounded on three sides by the amazing coastal views of golden and green marsh grass.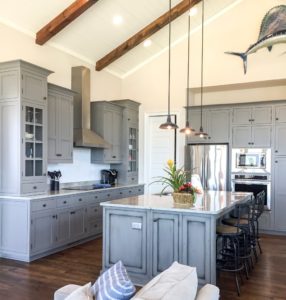 Interior view of the open kitchen with oversized island and vaulted ceiling
Soft gray cabinets with a white quartz top and sleek stainless steel appliances offer a clean cool look ideal for a tropical vacation home. The painted ship lap ceiling provides a rustic texture that both correlates with and contrasts to the stained timber beams.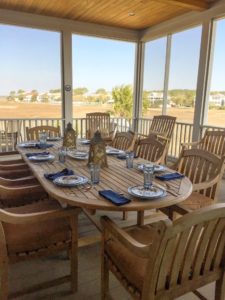 Screened dining porch view
Further capturing the magnificent view and brisk island breeze is the dining porch furnished with a slatted teak table and padded teak arm chairs. Naval blue napkins with coordinating patterned dishware and crystal blue glassware set on the earth tone furnishings perfectly mimics with the swirl of ocean and marsh grass that surrounds this outdoor oasis.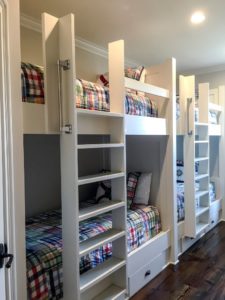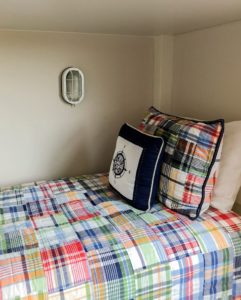 The bunk room is reminiscent of sleeping quarters found on sailing vessels allowing it to take advantage of an otherwise tight space in a truly nautical fashion. Madras plaid bedding in bright primary colors pop against the clean white bed frames with stowaway storage. Nautical light sconces provide each bunk with a private reading light or an effective way to keep any coastal ghosts at bay.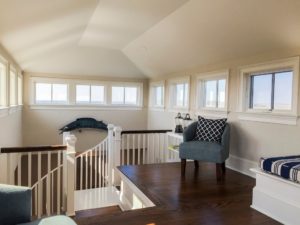 Interior view of the crows nest observation loft
The crows nest provides 360 degree views in a cozy loft accessed by a spiral metal stair. The space is perfect for keeping watch or for a relaxing getaway.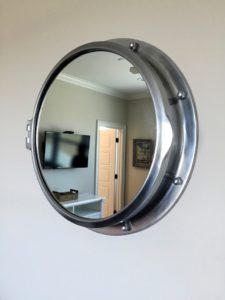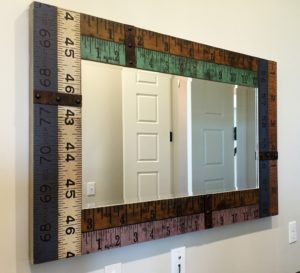 Nautical themed accessories can be found throughout the home including this whimsical port hole mirror which opens to reveal shallow storage shelves and this ruler themed mirror frame which hangs in a dressing area.
This open, airy and bright home surrounded by majestic, tranquil marsh views provides ample inspiration for those who wish to bring the appealing look and feel of coastal living into their home.