This creative villa, redesigned by Nancy Hurley of Coastal Designs by Nancy, is the first in a series of six coastal homes I am highlighting in my "Coastal Design" blog series. All of these homes are located on Fripp Island, SC and were part of the 2016 Fripp Island Women's Club Home Tour.
We began our tour at the Captain John Fripp Villa and were surprised and delighted by the fresh interiors and modern take on traditional coastal design.
Bright whites mixed with weathered wood, shiny chrome, mirrored accents and muted taupes create a relaxing oasis perfect for coastal living or for those of us who wish we were living at the coast.
A faux transom made from framed mirrors adds visual interest and a sense of height to the otherwise low ceiling. This detail is carried throughout the 1250 square foot villa.
The Master bedroom walls are accented with ship lap and continue the mirrored transom detail. The white interior is coupled with contrasting dark stained elements and subtle textures.
The Guest bedroom continues the use of ship lap and mirrors along with coastal silhouettes.
The Bunk Room sleeps six and takes advantage of storage space under the beds and between them. Burlap and brown accents provide contrast and warmth.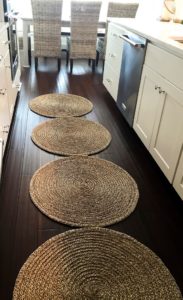 The outside patio overlooks the marsh in a shaded relaxing space with fun blue and green tone accents pieces. The galley kitchen floor has a series of jute mats sewn together to form a runner.
For a small space, this villa has the feel of a luxury home. It was a great beginning to our tour and proved to be one of my favorite designs.