Sometimes you love your house but there's just one or two things here or there you wish you could change. Such was the case with this project. Our client had a gorgeous, spacious home in a fantastic neighborhood, but there was only one full bath to be shared by three kids. The client desperately wanted two full bathrooms, but an addition was out of the question and reducing the size of a bedroom or closet could do more harm than good. That's where a creative designer comes in handy.
We were able to redesign the existing hall bathroom in a way that allowed us to create one hall bath and one private bath without sacrificing bedroom space.
The existing hall bath had a combination shower/tub unit with a toilet on one side.
And a double vanity on the other side.
We began by removing the existing fixtures and finishes in the bath and part of the existing hallway. We removed a linen closet and some other minor interior walls to make room for the new bathrooms.
By taking full advantage of a small amount of hallway space, we were able to provide the homeowner with two full baths instead of one. Each bath has tiled showers, a toilet and vanity. We were even able to provide a double vanity for the hall bath which is shared by two girls.
The hall bath is soft and serene with terrazzo flooring, crema marfil marble countertop, painted vanity, tiled shower walls with a hex tile accent panel and frameless shower enclosure.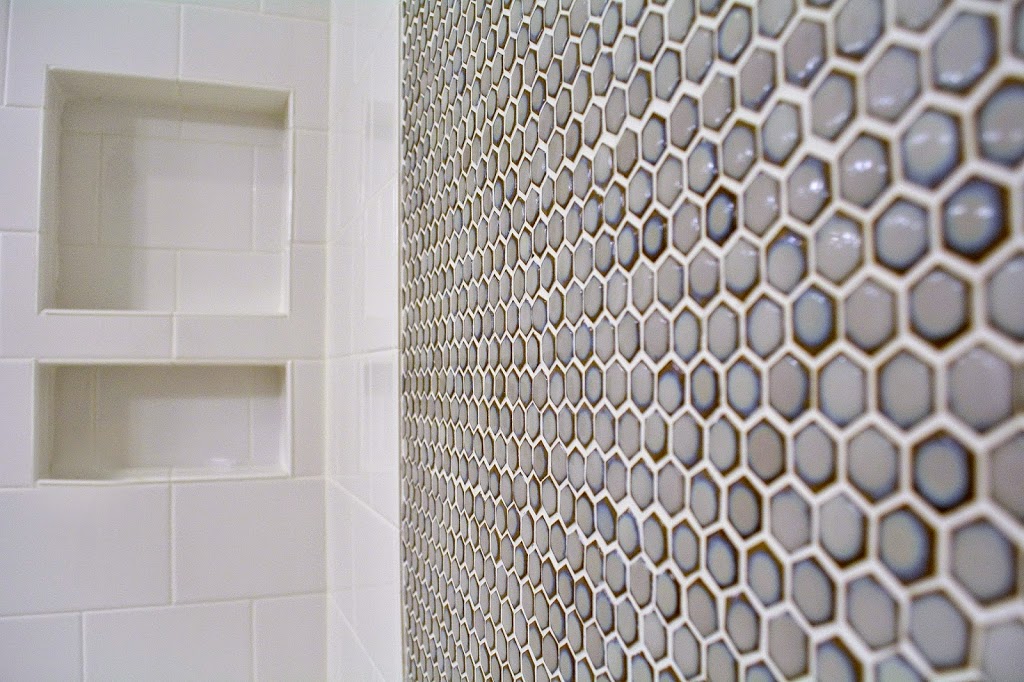 Details such as recessed tile niches and a porcelain shaving shelf help make the space as functional as it is beautiful.
The efficient design of the private bath has an open relaxing feel with it's full glass corner shower, terrazzo tile floor, glossy tile wainscot, dark vanity and sleek chrome accessories.
The vanity has a marble top with undermount sink, polished chrome faucet and glossy white backsplash.
The shower curb and side wall are topped with the same marble that is used on the vanity. This helps to visually tie the elements together and provides a solid smooth surface to attach the shower surround.
By transforming a standard hall bath into two full baths, we have given this family the extra space they need and have added significant value to their home. What was once a crowded overused bathroom is now twice as nice.